Post by Deleted on Aug 29, 2012 17:16:04 GMT
Player Information
[/color][/font][/center]
Name:
Ryan or Zack mainly.
AIM:
FlashMagicBaby
YIM:
N/A.
Windows Live:
Ryanvallance8@hotmail.com
Email:
Ryanvallance8@hotmail.com
Other Contact Info:
Skype, Facebook and Twitter; just ask.
Character Statistics
[/color][/font][/center]
Name:
Ryan Jiaoimasu
Other Aliases:
The Last Samurai, Warrior of Time.
Age:
42.
Species:
Jiaoimasian Dragonian - The planet Dragonia was originally home to a race known as the Dragonians, now nearly extinct. The Dragonians had a humanoid appearance, both in terms of physical appearance and anatomy, they shablue almost perfect resemblance with a human beings. However, Dragonians were physically stronger than Humans and generally lived hundblues of years longer. Yet, much like Humans, there were different races, breeds of Dragonians that inhabited the planet, each varying in appearance depending on the geographical location they resided within. One of these races, a more rare one, were the Jiaoimasian Dragonians.
Originating from a mixture of Lavertian and Bedoen blood, the Jiaoimasian Dragonians are the most recent of all the Dragonian races to surface. Their skin was always of a lighter complexion, extremely pale, and generally their hair was raven black, often with a natural blue hue to it, though in rare cases brown hair had been known. Their eyes were almost exclusively azure blue, bright as the clearest sky, with the occasional light green. With a mediocre build, at best, the Jiaoimasian Dragonians were not known for their immense strength but more for their agility and their ability for battle.
Face Claim:
Vincent Valentine - Final Fantasy VII: Advent Children.
Height:
5'9".
Weight:
140lbs.
Eyes:
Azure.
Hair:
Held in place by a blue headband, Ryan's raven black hair roughly flows down to his shoulders. However, in the light a blue tint becomes visible.
Aura Color:
A translucent white aura, with flickering blue flames often seen dancing throughout.
Description: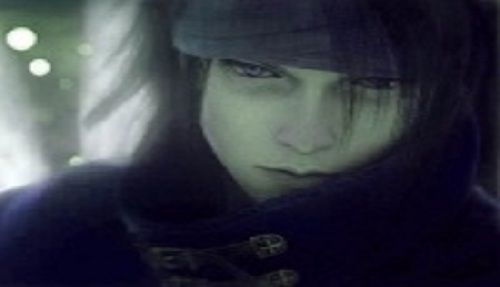 Ryan's physique has never been large. He was always a slender, even feeble looking child, and his rise to adulthood did little to change this; his overall weight complimenting his mediocre, yet defined, muscle mass and slender figure. During the great war of his people, Ryan was viciously wounded countless times, causing several deep gashes across the entirely of his body, most noticeably his torso and face. Despite his healing ability the scars of these wounds have never truly healed, and now riddle his body; a constant reminder of what he has lost. Many years ago Ryan also lost the use and all feeling within his left arm, which is almost always tied against his chest in a discreet sling. His most prominent facial features are no doubt the scars, though his bright eyes also stand out against the contrast of his dark hair and stubble.[/center]
Personality:
Moral Alignment:
After his split from Loki, Ryan has become the physical embodiment of all that is good and just.
Weapons and Equipment:
Soul Reaver-
Special Skills:
Character Background
[/color][/font][/center]
Relationship Status:
Ryan is currently single.
Family:
All of Ryan's family are decreased besides Loki, who he begrudgingly recognises as a sort of twin.
Place Of Birth:
Jiaoimasu territory, a valley in-between the borders of countries of Lavertia and Bedoe, on the former planet of Dragonian.
History:
Ryan's history was once intertwined with Loki's, and since has been fraught with justice, great hardships, and the near constant battle against evil. You can view Ryan's history here
(Coming Soon)
.
SPECIAL ABILITIES
[/color][/font][/center]
Basic Abilities
Rapid Healing - All Dragonians are born with the natural trait to heal much faster than normal, and can often recover from much more serious injuries than other species.
Heavenly Light - Ryan has the ability to turn his aura into an intense, blinding white light. While like this Ryan's Ki also takes on this appearance. It has a negative effect to those of Evil, hurting them even more so upon contact, but generally it is used as a form of distraction, it's light so intense that it blinds any who look directly at it.
Sixth Sense - This ability grants Ryan the ability to sense persons intensions, whether they good or evil. Ryan's sixth sense also allows him to briefly feel into the future, but only by a few seconds, and because of this he has faster reactions than would be expected.
-
Advanced Abilities
Dragon Scar Transformation - The Dragonian race is somewhat tantamount with a race known as the Saiyans. That so, Dragonians have the ability to transform into a more powerful form called Dragon Scar; a transformation synonymous with a Super Saiyan. Much like all other Dragonians who use the Dragon Scar transformation, Ryan goes through a considerable change, especially in terms of his physical appearance. His hair changes from its usual raven black to an intense silver, clumping together but not necessarily spiking, while his eyes become a far more intense azure than usual; almost as if they are glowing. In this state his aura intensifies and takes on a slight blue hue, though it becomes so bright it begins to illuminate its surroundings. While in this transformation Ryan's natural attributes receive a tremendous boost, such as his power, endurance and speed; all greater than that of his regular form, along with improved eyesight and reaction time as well. It is the panicle of Dragonian physiology.
The Ashen Flame - An ability believed to have been brought about by circumstance and genetic mutation, it granted mastery of heat and fire. Even the most extreme of temperatures do not affect them, the most intense fires do not burn them. However, much like Ryan and Loki, two halves that were once whole, this ability was also torn in two with it's user was:
1) Pyrokinesis - The word 'pyrokinesis' quite literally means "fire movement", which happens to be quite fitting under the preferences of this said ability. In a definition which overlaps that of thermokinesis, it could also be the purported ability to excite the atoms within an object, possibly creating enough energy to ignite the object, and is the theorized cause of spontaneous human combustion. His split from his other half also split this ability in two, stripping Ryan of the ability to physically create fire but granting him the ability to manipulate any flames in the immediate area. The flames manipulated by Ryan are limited to his immediate area and the fire within it, but to manipulate them he needs nothing more than rage and the will to do so.

2) Hard Fire- Ryan has the ability to take the flames he manipulates and induce them into taking a semi-solid form as animated "flame beings". These creations, though capable of movement, and of grasping or carrying solid objects, are not alive and do not think or act on their own but instead are controlled mentally by Ryan. The degree of Ryan's concentration necessary to manipulate a flame being is directly proportional to the being's size, power, and flame, or by how many are created. However, too much strain on Ryan's mind can cause the hard flame to revert back to its natural state, or to disperse entirely.

Longbow of the Samurai - An ability specifically created to wound and disable an opponent, and formed entirely by energy rather than a physical bow and arrow. Using advanced Ki manipulation, Ryan creates an entire longbow within his right hand, purely out of his energy, and a long arrow within his left hand in much the same fashion. The ability is used much in the same way as someone would string an arrow in a bow and loose it, though the Ki arrow is designed to rip through its target rather than lodge itself in it. If the target is organic, while passing through it the residue energy quickly breaks down within it, the electrical charge causing the surrounding muscles to go into a state of spasm, resulting in them going completely numb and useless; the amount of time this remains as so varies on the individual.
Katsumoto Driver - Originally created and used by Katsumoto Jiaoimasu, Ryan's father, this devastating and cleaver ability was referblue to as his trademark ability. Placing his right hand behind his back, the user begins to gather energy within his palm, forming a small ball of Ki. Synonymously, the user extends his left arm out in front of his body, palm facing outward, as they begin to collect energy within that palm, forming yet another ball of energy. The key to this ability is masking energy within the palm behind the users back, so that the opponent doesn't know it is there. When sufficient energy has been collected and it extended arm appears ready to fire what appears to be a Ki wave, the user swings round the hand from behind their back and fires off two parallel blasts simultaneously. The ability allows the user to attack two separate targets at once, by pointing their arms in two different directions, but it also allows them the option to brings their hands together and two the two beams into a singular, colossal beam of deadly devastation.
Ultimate Abilities
Planetary Burden - Also known as "Heavenly Extinction", this amazingly powerful ability is unlike anything that one would expect an individual like Ryan to possess. The energy used to fuel this attack is formed by draining any and everything negative that he can sense and mixing it with his own Ki. Things like negative emotions and situations, such as pain, death and destruction. It is, in itself, a new form of energy, and as a side effect is said to feel those who it has drained the negativity from feeling refreshed and positive afterwards. Raising his hands into the air, Ryan begins to gather the energy above his head in a swirling sphere, the size completely depending on the Ki and negativity at his disposal, which is then thrown in the desired direction. Upon contact with anything other than Ryan the gigantic sphere of energy explodes violently, with an extremely large radius and a powerful cyclone at its centre, which pulls everything in the surrounding area towards the destruction. In the event that any of this energy is absorbed into someone body the negative energy acts to overwhelm them, forcing their body and mind into a state of painful torture.