Post by Deleted on Sept 17, 2012 10:16:14 GMT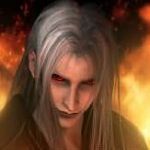 Loki
[/div]
For the longest moment Loki waited in silence while he waited from some sort of response from the Saiyan in front of him. Despite the evil that consumed every inch of him he absolutely hated Saiyans for what they had done to Dragonia, for their attempt at killing him, exterminating his race and taking over his planet; this pathetic Saiyan was no exception to this. When it appeared as if the Monkey wasn't going to respond, not even with a slight expression, Loki's anger began to flare. However, it was at that moment that the Saiyans wall broke and the anger began to bubble to the surface.

"That sounds like a great deal, but I don't think you could send me where they might have gone. You have no power there demon." The Saiyan spat with venom, as if his foolish attempt at an insult would wound his superior.

It was almost humorous that these heroes kept referring to him as a mere demon. "You fool. I don't need power there to kill you." the point was sharp and forced through a sadistic grin, his voice thick with a strange mix of malice and glee. However, the Monkey wasn't finished yet it seemed.

"I think I have a better bargain for you. Why don't you bow down right here and beg forgiveness for all of your sins. Then you can leave here right now with your little band of demons and never come back to this world." As he continued to listen, Loki cocked an eyebrow. After all, this was quite entertaining. "Of course you could chose to stay too, it makes little difference to me, but if you do I'll track down every one of you and snuff out your miserable existence. If I you manage to kill me in this world, I'll find you in the next. No matter how many thousands of years will pass, no matter how many dimensions you hop through, I'll track you down, and find a means to exterminate you. How does that bargain sound to you?"

In the blink of an eye Loki was upon the Saiyan, grabbing him by the scruff of his Gi and lifting him off of the ground. The Saiyans feet barely left the ground because he was taller than Loki, though the latter merely looked up into his face. His speed, though insanely fast, had been nothing but a show to further intimidate his opponent. "Your words have been found wanting, Monkey. In what world could you have ever defeated me?" his grin was menacing, a sign that he was clearly enjoying himself. "And after I slaughter you, no matter how many times you come seeking revenge, I'll just enjoy slaughtering you again and again…" the former Lord of Hell leaned his head in closer, his lips parted as he began to whisper. "Your children screamed in unthinkable agony as I watched them burn alive."

As Loki laughed and pulled back a clenched fist something suddenly hit him, a wave of nausea and dizziness, and in an instant his vision turned bright red and he could see nothing. The evil Dragonian involuntarily threw the Saiyan to the ground and staggered backwards as he clutched his head, unsure as to what was happening to him. His vision was full of reds and oranges swirling in front of him, of a feel of peaceful rage boiling below the surface that did not belong to him. Then just like that, as suddenly as it had hit him, his vision returned to normal and the feeling was gone. Loki glanced around, looking at all the heroes in the area in an accusing expression. Who had done that to him? He would have their blood for it!

He noticed that one of the heroes, one of an unusually small stature had begun to fight the Demon known as Karacoto, a distraction that would ultimately work in his favour when he decided to spring his plan. However, this was not what caught his eye on the field of battle as his eyes fell on a seemingly young female creature, a humanoid fox who wreaked of a calming peace, and what she was holding; one of his brothers Twin Reavers. This could have meant a number of things, each different from the next, but Loki wasn't about to sit and consider them all, he would have that blade and he would have an answer from the one carrying it…even if he had to rip it from her, slowly and painfully.

His vision had been fixed on her all this while, his crimson eyes near glowing with the sadistic thoughts of what he could do to her flooding his mind. Slightly lowering his head, Loki brought his hands across his chest and clenched his fists and as he flung them down to his sides and looked up once more, a pillar of fire exploded all around him. As the flames flickered and danced he could be seen from within, looking out at them all without any hint of pain or burning upon his body. Unnatural looking black flames danced throughout, the deadly taint of hellfire of his creation. He had created the flames but he had no control over then, though his opponents did not know this. With a sudden flare of his black aura the flames were pushed away from him in all directions as they rapidly began to burn through the air, needing nothing to fuel their insatiable desire to consume everything in their path.

With the heroes now having to consider yet another factor in this battle, unless their didn't mind the thought of burning alive, Loki began to briskly walk through the flames towards the young Vixen. As he began to walk past the position that the Monkey was now residing, Loki simply extended an open palm towards him, materialized and fired a red and black ball of throbbing Ki at him. In size it was no bigger than your average ball, but its size was deceiving in comparison to the power it held. However, despite this he did not take his unblinking eyes away from the Vixen, opting not to even glance at the Monkey; he had already lost interest in him and had chosen a new, more pleasing target for his malevolence.
[/justify]