Post by Deleted on Sept 7, 2010 19:24:15 GMT
Player Information
[/color][/font][/center]
Name:
Falkan
AIM:
  somewordsandstuf
Email:
falkanreval@gmail.com
Character Statistics
[/color][/font][/center]
Name:
Jitt Kolar
Other Aliases:
Age:
unknown
Species:
Human/Miasman hybrid
Jitt was used in an experiment with a deadly space-gas known as miasma. The infusion of the gas into his system has made him superhuman, stronger, faster, and nearly invulnerable compared to an average human. He is able to lift cars, shrug off bullets with little more than a scratch, and outrun a cheetah. His senses, especially hearing, have been greatly enhanced, and his body now generates a constant supply of miasma, although not in the gas form. Instead he has his own unique 'miasmic' energy along with the ki/chakra energy he had as a human.
Face Claim:
Alucard (Helsing)
Height:
5'11"
Weight:
200 lbs.
Eyes:
Red (left)/Blue (right)
Hair:
Black
Aura Color:
Red with blue flares
Description:
Jitt's form resonates with most as truly terrifying. His skin is a deathly pale and seems to be stretched too tightly over his muscular form. Long black hair flows past his shoulders, always somewhere on the line between neat and unkempt. Behind a pair of gold-tinted sunglasses, his eyes are another frightening trait. While his right eye is a normal human blue, the left eye glows a hellish red. He is rarely seen in anything but his trademark black suit, red trench coat, and red fedora, accented by black shoes and gloves.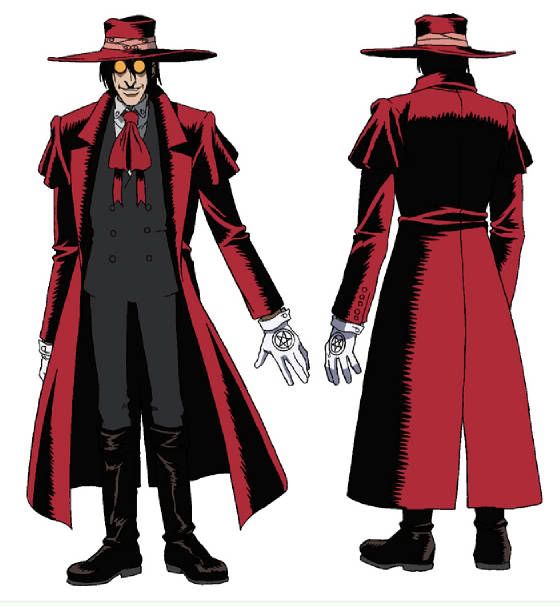 Personality:
Since most people avoid him due to his appearance, it's easy for Jitt to limit his encounters to only those he desires to deal with. However, in spite of his threatening appearance, his associates generally find him a practical, even keeled individual and often the voice of reason and sanity. His guiding principle is destruction – of anything and everything he comes into contact with – however he recognizes that much more damage can be done with patience and planning than through mindless havoc. In light of this, he maintains a calm, amiable facade even when his very nature is screaming for mutilation and death. This doesn not mean he is to be taken lightly. When extreme outside pressure combines with the constant raging inside his own mind, Jitt can snap and become, for a little while, the complete monster he truly wants to be. Those unwise enough to push him this far have not lived to warn others.
Moral Alignment:
Evil
Weapons and Equipment:
Twin gauntlet-mounted Scisabers - Like most other Scivern agents, Jitt carries the Scisaber energy weapon. His weapon hilts have been mounted into his gloves in order to accommodate his unique fighting style. The energy blades in Jitt's scisabers takes on the form of two-foot double edged broadsword style blades.
Scouter glasses – Jitt's trademark gold sunglasses are actually an enhanced, custom made Saiyan scouter device. Along with the normal scouter functions of reading and tracking power levels, radar, and communication, the glasses allow Jitt to track miasma and provide a limited 'x-ray' function.
Energy pistols - Twin silver pistols, both similar in appearance to earth's .45 caliber handguns. However, both are surprisingly powerful energy weapons. One fires ki bursts and the other fires bursts of miasma.
Armored suit – Jitt's black suit and red trench coat and hat are, like most of his other equipment, a deceptively custom made suit of Saiyan battle armor. The process required to make the armor flexible enough to appear to be normal cloth weakens the armor slightly, but it still offers significant protection against most opponents.
Special Skills:
Jitt's human life as a government agent provides him with a wide array of valuable skills. He is a master computer hacker, marksman, assassin, athlete, and even a master of disguise.
Character Background
[/color][/font][/center]
Relationship Status:
Single
Family:
unknown
Place Of Birth:
Somewhere on Earth
History:
Research Lead Logfile
Task Force Theta
Entry #JAA2010
My first entry in this logfile finds me still reeling. Shock seems too light a term to describe the feelings I have at this moment. Where to begin? This morning I was presenting a lecture on microbiology, and the next thing I knew, I was waking up here – though I can't say I know where here is. I'm told it's a government facility – who knows which government. Surprisingly, it's irrelevant, even to me. Upon my awakening, I was escorted into a large room, perhaps a hangar of some sort, along with hundreds, maybe even thousands, of others. We were told that we had been recruited (an ironic euphamism for kidnapping) because we were each the best in our field. We were told that the world was on the verge of unprecedented crisis. Somebody asked if this was some sort of joke, which triggered a round of protests from many of us, but once we had been silenced by a burst of gunfire, the woman on the platform delivered on her unthinkable premise. I will do my best to recap her lengthy presentation as concisely as possible.
Several months ago, astronomers discovered a mysterious mass of gas approaching earth's orbit. This cloud, hundreds of times larger than our own planet, appears to have originated in the center of the Milky Way galaxy and will be directly in our path by this time next year. At first the cloud was regarded with simple scientific curiosity. Probes were sent to intercept the cloud, relay information, and even return a sample of the gas. Most of the probes mysteriously dropped out of contact immediately upon arrival, but a few survived long enough to tell us what we needed to know. This cloud is now the most toxic, corrosive gas in the universe. She called it 'Miasma' – I assume in reference to the ancient Greek miasmatic theory. At first the astronomers assumed as we did that the earth's atmosphere would deflect or filter the gas, but it appears they were wrong. It's still overwhelming to believe, but once the earth enters the gargantuan cloud, the gas will eat away at and evenutally saturate our atmosphere. We've been told that unless we discover a method of filtering the gas or immunizing against its effects, every air-breathing creature on the planet will be dead within a week of exposure.
It's difficult to believe, but we weren't given time to question the reality. Evidently they – whoever these people are – had already categorized us according to our fields of expertise. We quickly and efficiently divided into groups and presented with a task and an organizational structure. Due to my experience with microbiology, I've been placed in charge of Task Force Theta. Our objective is to develop some method of immunizing air-breathing creatures (obviously humans are our top priority) against the gas. There are a dozen of us on this team. Most of my colleagues I recognize, either in person or due to their work, but some are new to me. Once we had been organized and tasked, we were seperated and escorted to individual quarters, ostensibly to 'get some rest'. I suspect instead it's to keep us from leaving. I don't know how to take all this. It seems unreal, the plot to a summer blockbuster movie or a gripping sci-fi novel...how can this be happening?
Research Lead Logfile
Task Force Theta
Entry #JAI2010
We've been at this for a week now and have only just finished processing the data presented to us on the miasma cloud. I've never seen anything like this, but I'm a microbiologist. Dr. 'R' – I'm not permitted to reveal the identities of my colleagues – is an accomplished astronomist, and although he's never seen anything like it either, he insists it's not only possible, but probable that this cloud does in fact exist. The fact that it's on a collision course with earth, however, is a wildly improbable, tragic coincidence.
Rest is a thing of the past. We're allowed periodic breaks and five hours per twenty-four hour period to sleep. It would have seemed inhumane a week ago to work under such conditions, however now I find myself feeling guilty when I try to sleep. Saving the world is hardly as glamorous as it seemed in the comic books I read in my childhood.
We've no contact with the outside world. It seems the powers that be are keeping a pretty tight lid on this. This is no great trial for me, as my parents died years ago and I never found time for a family, but some of the others are suffering greatly. I feel so badly for them, but I do understand the situation. Imagine the panic if the masses learned they would be dead within a year...I will refrain from speculating further as I now have three hours and forty five minutes to finish this entry and get some sleep. Tomorrow we begin our research in earnest. I've been informed that there are quite literally no limits; financial, technological...even ethical. We have only to request anything we feel we need to accomplish our objective. It's unusual – as a scientist I've often longed to work with such freedom, but the circumstances have effectively stolen any excitement I might have felt. Now there is only the objective.
Research Lead Logfile
Task Force Theta
Entry #KBD2010
Over a month of work, so intensely that I've had little time for speculation. However, as I was reprimanded today for not providing adequate documentation, I shall attempt to enter logfiles more frequently.
Dr. 'J', an accomplished zoologist, seems to have disappeared. He simply didn't arrive this morning. We've been told that he's been reassigned, but he was perhaps the most valuable member of this task force. Most of our meaningful contributions thus far have come from him. Personally, I'm more inclined to believe his disappearance was connected to his continued attempts to contact the outside world. I pleaded with him to cease and desist, but he insisted that the public "needed to know" about the cloud. He has three kids, a wife...who can blame him? Unfortunately, his absence is a severe blow to my team. They insist they will replace him, but I don't see how. Rumors are that dozens have similarly disappeared. I've warned my team again regarding attempts at leaking information. Concern for friends and family is certainly understandable, but the stakes are too high. We cannot afford to lose anyone else.
One of the probes returned several days ago, carrying the only sample of live Miasma gas to return. After initial quarantine, we were given the sample for research purposes. I'd love to examine the material they've developed to contain the gas, but there's no time for idle curiosity. We began experiments immediately, and we 're only just understanding the full effects of Miasma on human physiolgy. Suffice to say it's unpleasant.
Research Lead Logfile
Task Force Theta
Entry #KC02010
We had something of a breakthrough today, though I'm loathe to use the term. Dr. A revealed today that he is a devoted member of a particular 'extremist' group...to put it mildly. Of course there are terms I would rather use, but it's become clear from my last entry that these logfiles are, in fact, monitored, and we've been encouraged to set aside any differences that might hinder our cooperation. I digress. Dr. A's life's work, his Piece De Resistance, as it were, was the development of a biological weapon. If the world had known how dangerously close this man was to perfecting his own personal Mona Lisa of death...God is more merciful than we ever realized. This weapon was to be an airborne virus that killed its victims slowly and unbelievably painfully. His group believed that people would be far more willing to negotiate while alive and suffering than while grieving over dead loved ones. The logic is disturbingly sensible. Shocking as this may have been a month ago – in another life, really – I have given Dr. A full freedom to perfect his 'torture virus'.
When Dr. A revealed his virus last week, we followed our routine and exposed the virus to a sample of the live miasma. Something happened. I'm careful to express anything akin to hope, but this is first among thousands of agents we've tested to react positively with the gas. We then introduced the virus to cadaver of a rat dead from miasma exposure. The tissue regenerated, completely. Of course the rat is still dead, but the damage to its body is completely reversed. If we could only restore life, the creature would be perfectly healthy. Dr. A seems convinced his perfected virus could do the impossible – the unthinkable. I am afraid to believe him.
Research Lead Logfile
Task Force Theta
Entry #LBE2010
Two gifts this week, appropriate given the season. Dr. A perfected his virus exactly on schedule and introduced it to another rat cadaver. The creature is crawling about it's cage on my desk at this very moment. It's impossible, of course, yet I've seen it with my own eyes. The torture virus, meant to wreak unspeakable horror on mankind, combined with a gas that is the very embodiment of doomsday, is the only agent in the world capable of reversing death. I'm not sure irony even begins to describe the state of things.
In light of the breakthrough, I was forced to perform yet another in an expanding list of unspeakable acts. I requested a live human subject for testing. I know, every moral and ethical fiber of my being is screaming even now in protest, but humanity cannot afford for me to listen. God forgive me, they delivered a subject within hours of my request. Of course information is scarce. We know his name was John Kolson. He was a covert agent in the employ of one of the world's powerful governments – we shall never know which – until today. Mere hours ago he was involved in something that went catastrophically wrong. His body is absolutely riddled with gunshot wounds, extensive internal and external trauma. I'm not entirely sure he qualifies as a 'live subject'. Yes, an array of machines are keeping his heart beating and air flowing through his lungs, but for all practical purposes the man is dead. Without the machines his body would stop functioning within seconds, and he is otherwise incapable of responding to stimuli. While this does make the ethics of the situation more tolerable, I'm admittedly wary of the effects of the experiment. Dr. A is certain we will see success.
Research Lead Logfile
Task Force Theta
Entry #LBF2010
Uncertain how to relate what we have done. Mr. Kolson was exposed to the torture virus today. Were he conscious, he would be wracked with unspeakable pain at this very moment. A healthy subject would be in this agony for weeks as the virus systematically overtook his system, ending in a violent, covulsing death. Mr. Kolson's body is already so severely damaged that Dr. A predicts death within hours. I've ordered my team to rotate their rest periods in order to monitor the subject round the clock. It's vital that we expose his cadaver to the gas as quickly after death as possible. Clinical terms don't help to ease the burden of what we have done...we have killed a man. May God have mercy on him...and us.
Research Lead Logfile
Task Force Theta
Entry #A0A2011
Success...complete, utter success! Our premise was outrageous, desperate, and repulsive, but it also appears to have been met with complete success! Within hours of exposure to the gas, Mr. Kolson, now dubbed subject JK-01AR, is alive, concious, and in perfect physical health. I have been a part of this process every step of the way, but I still find it impossible to comprehend. The man is alive, and better. Initial tests indicate he is stronger, faster, and otherwise superior to humans in every conceivable manner. It's difficult to ascertain whether the same can be said for his intellectual capacity. He remains unresponsive to intellectual stimuli of any sort. It's certainly a reasonable assumption that this is due to the trauma of being shot, killed by a horrible weaponized virus, and reanimated via a toxic galactic gas, but we can't afford to assume. It will require even less rest than we have become accustomed to, but we must now manage to continue testing and observing JK-01AR as well as refining the viro-miasmic process.
In spite of the increased challenges, the team is overjoyed. Dr. A is, of course, self-congratulatory, so much so that he was even willing to accept my demand that his virus be destroyed when this is over. When this is over...it's so difficult to see those words and believe they could be true. Dr. K has taken to referring to this entire experience as the 'path to perfection'. She is persuaded that all this – the cloud, the virus, and our work – is the means by which mankind will take its next "great evolutionary leap". Of course, I'm disinclined to agree with her statement on various grounds, however I am reluctantly willing to admit that this, guided by providence, evolution, or whatever other means, may lead to a better world after all. Still, I'm concerned. Hope is all too often a double-edged sword.
Research Lead Logfile
Task Force Theta
Entry #AAH2011
Hope...arrogance...we praised ourselves all too soon. We thought we had solved everything, but we were wrong...so horribly wrong! JK-01AR is missing, Security teams have been swarming the compund for hours now. We have all been confined to quarters indefinitely, in spite of the effects it could have on our research. I don't know what happened. The subject regained his senses three days after his reanimation. At first he appeared in relatively good condition. He had little to no memory of the details of his life, yet his intellect was not only intact, it seemed as far advanced as his physioligy. The skills he learned in life were as natural to him as ever, and his problem solving, social, and observational centers were functioning at levels beyond human capacity. His emotional centers, on the other hand, seemed remarkably detached. He was curious, of course, about where he was, who we were, what had happened to him, etc. He remembered vividly being shot and awakening in our laboratory. The limited information we were able to provide did not satisfy him, but he was neither angry nor sad. He was simply curious, desiring more information. When we refused to give it, he then refused to cooperate with any further testing. Several hours later he became cooperative again, still with no emotional responses whatsoever. Testing continued, and JK-01AR demonstrated continued perfect performance, yet he never seemed to develop any further emotional capacity..until this morning.
The Subject was undergoing another psychological examination, as routine as could be under the circumstances, with one exception. Dr. L failed to close the door to the examination room all the way. I was conversing with Dr. A regarding the miasmic cloud and our operational plan, and it appears JK-01AR overheard us. According to Dr. L, upon hearing the word 'Miasma', the subject became overwhelmed with fits of laughter, shoved her against the wall, and ran from the room. We tried to stop him, but his superhuman strength and speed was more than even our combined efforts could overcome. He headed straight for the miasma chamber, which he had no way of even knowing existed, opened the protective shield, and immersed himself completely in the substance. Of course we assumed he would either be unaffected or killed, but again we were wrong. Something more happened – but who knows what? His features assumed a horrifically sardonic look, his skin became pale, and his left eye began to glow red. While we were still observing the scene in awe, JK-01AR emerged from the chamber, carefully re-sealed it, and ran from the room without another word. The rest is chaos. Gunfire, shouts, and then the Security Force herded us all to quarters. Nobody knows what's going to happen...
The creature who was once John Kolson escaped the facility in a matter of minutes, leaving a trail of human wreckage in his path, and made his way to the arm of the compound dedicated to further research on the cloud. Once there he located a vessel to his liking and left planet Earth behind him. The truth was that he'd been listening all along, from the moment he'd arrived at the facility and been subjected to the torture virus until the moment he'd left. His enhanced hearing after his resurrection allowed him to absorb all kinds of information, about the cloud, about the virus, about himself, the galaxy...all the combined knowledge of Task Force Theta was available to him, and he simply listened in spite of his body's craving for the gas they called "Miasma'. It took time to learn enough to empower him to escape, but patience was a virtue, or so he remembered being told at some point. As chaotic as his escape had been, it was as carefully planned as any maneuver in history. The launch facility he invaded was the center for the last resort, the wing devoted to the only option available to mankind should the other teams fail. Task Force Omega's project was intergalactic travel – escape for mankind should the cloud prove impossible to defeat. There he found a ship ready to carry him away from this world and, with a little adjustment and the knowledge he'd gained while listening, able to bring him to another.
While the ship hurtled through space, he adopted a name, the best he could discern from the jumble of letters printed on the jumpsuit he'd always worn, and continued to study and learn every scrap of information available to him. His travels eventually brought him to Eden, a fresh, beautiful world ripe for destruction. Of course, so was earth, but it was mere months away from its own destiny. He preferred a world where his designs, and no others, would be responsible for the calamity he desired. It wasn't long before he encountered the Scivern Empire, and although he found most of its agents repulsive and beneath him, he also recognized the Empire's usefulness in his designs for destruction. Perhaps once Eden had fallen, he would set to work on the Empire. He enlisted with the Sciverns, who easily recognized his usefulness to them, and set about his work of destruction. After all, he'd been reborn from the most destructive substance known to man...this was his destiny.