Post by Deleted on Sept 1, 2012 13:06:13 GMT
Player Information
[/color][/font][/center]
Name:
Ebony
AIM:
Ebony Hunt
YIM:Windows Live:Email:
ladyxai@gmail.com
Other Contact Info:
N/A
Character Statistics
[/color][/font][/center]
Name:
Captain Ebony Wrath
Other Aliases:
Dark Raven
Age:
23
Species:
Night elf
Face Claim:
World of Warcarft
Height:
5'6"
Weight:
130lbs
Eyes:
black or red
Hair:
Black
Aura Color:
Sliver Shadows of black
Description: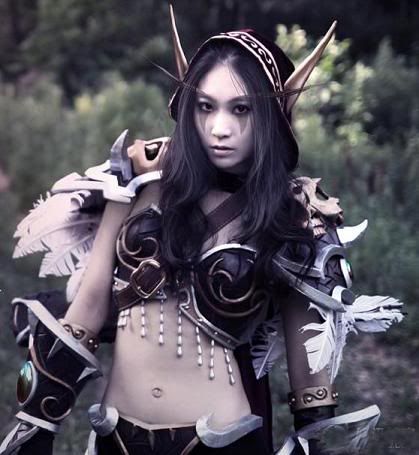 Personality:
Ebony is a night elf soldier raised to fight and hunt for her own survival. She has always been a strong and faithful leader to her troop and has never been defeated in combat. She is compassionate about her people and others who fight for a worthy cause. She has difficulties opening up to people and tends to be straight forward and blunt, even if it may hurt someone's feelings.
Moral Alignment:
Neutral
Weapons and Equipment:
A Willow Branch Bow, Shiny Short Sword, a Jagged Dagger, Elven Armor, and a Pan Flute.
Special Skills:
Ebony is amazing soldier and tracker. She has prefect eyesight and a keen sense of smell. She has a photographic memory and can think quickly on her feet as well as plan battle strategies. A small talent of hers is her flute playing, which she only plays to herself.
Character Background
[/color][/font][/center]
Relationship Status:
Single
Family:
An only child to her grandfather who is a conical member of the night elves
Place Of Birth:
Deep in the forest of Leiversia
History:
Ebony always listened and obeyed her grandfather and his dictions, but now she started to question his sanity. She propped her hip against his oak desk and huffed as she crossed her arms over her armored chest. "I still don't see why I should go. I mean send the younger elves out. What about the protection of the village? Who will guard you in your sleep while I'm away?" Her grandfather kept on writing and muttering to himself, but she knew he was listening. His snowy white beard and balding head only made him more likely to fake his age, but he was sharper the day he picked up a sword as a pup. "I sleep with an eye open and dagger under my pillow. And the whole point of sending you out of the forest is to find peace. People think we are monsters that lurk in the dark. We need to put to rest the rumors of us night elves roaming the forest killing and eating babies." Ebony flicked her hair out of her eye, "I like eating…" She came up short when her grandfather gave her a glare. Throwing up her hands she growled, " I just don't understand, why me?" Putting down his quill he sat back with a sigh, "Because you have never once left these woods. You need to explore and see the world as any young elf should." Ebony shifted from foot to foot, her hair swaying back and forth with the ticking's of the clock. "I like it here, its my home…" Shaking his head he stood, "But what of the world? The beaches of Generica, the mountains of Brada, Raverita? Zelio? These will only pages in a book to you and paper can do so much for your imagination. Will you regret not going?" He saw the cogs in her mind moving and shifting the answers around, so he continued. "I did, so I'm sending you so you don't sit in this study and pine in these dusty books for oceans and cities you have never seen." Ebony gave one of her famous half smile and shook her head, "Alright old man, Ill go for you since that's what you want." She moved to the door and opened it, "But just because I'm going don't mean I'm shopping for you. You have enough books in this tiny room to build a forest with." She shut the door behind her and set off to pack for her new journey.
SPECIAL ABILITIES
[/color][/font][/center]
Basic Abilities
Environmental Adaptation - The ability to survive in any environment, even if it lacks the necessary resources to sustain life, like the vacuum of space.
Telekinesis - The ability to move small objects with ones mind.
Tracking Skills- The ability to track any prey and successfully find them unless they teleported.
Advanced Abilities
Advanced Sight- Able to see in the dark and at great length of distance.
Advance Smell- Can categorize different smells in a large area with many different people.
Advance Hearing- Can hear small sounds from miles away.
Ultimate Abilities
Sixth Sense- Is able to see a persons weakest points like feeling their heartbeat.