Post by Deleted on Aug 11, 2010 8:53:11 GMT
Player Information
[/color][/font][/center]
Name:
Nemo
AIM:YIM:Windows Live:Email:Other Contact Info:
Have a Myspace/Facebook/Twitter you want to share, link it here
Character Statistics
[/color][/font][/center]
Name:
Redan
Other Aliases:
Red King
Age:
19
Species:
Human
Face Claim:
Akito/Agito Wanijima - Yes, both of them.
Height:
Five foot seven
Weight:
One-Fourty
Eyes:
Yellow
Hair:
Steel-blue, shoulder-length, and allowed to move freely.
Aura Color:
Red. Bright, vibrantly, purely red, dripping with blood and violence.
Description: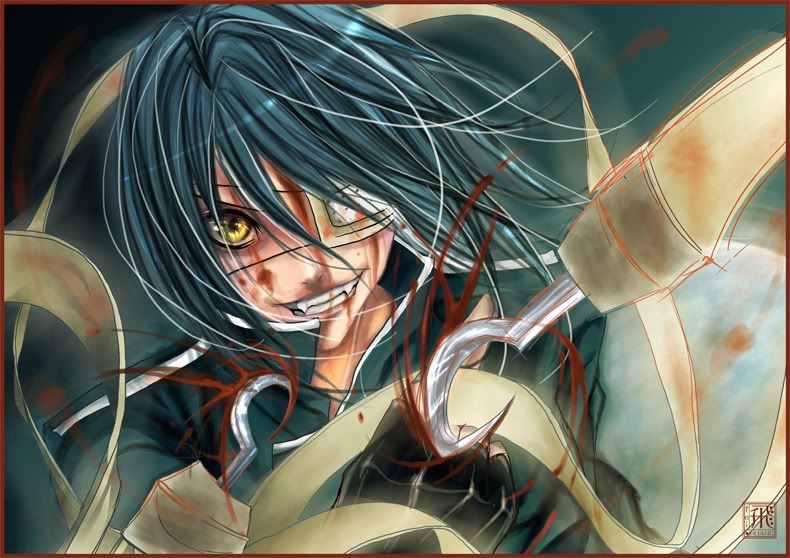 Personality:
Redan does not apologize. He does not explain himself, or justify his actions to anyone - he just... does truly horrible things with his considerable power, killing without a word, fighting for reasons only he understands. To the world at large, he is a sociopath, a murderous blade coming at them in the darkness. It's almost like he enjoys the act of killing, like he gets a rush from crushing life under his boots. The fierce, cocksure grin on his face never fades. His blade never stops coming.
That's the Red King. That could well be all that is left of Redan - a mad destroyer... but it is difficult to tell what goes on in his tainted mind.
At his best moments, when he's killed everything he can see, when the screams are silenced, when he is at last alone, he's a quiet young man, entrenched in layer upon layer of hardened exterior. Emotionless, almost unresponsive. Contact with people won't set him off again. The Red King can be triggered again if he witnesses something die.
Moral Alignment:
Evil. The Red King lives to kill, to destroy. He isn't cruel, but he kills without remorse or pity. Redan, what's left of him, is neutral.
Weapons and Equipment:
Soulknife - The soulknife is a psionically created weapon, made from one's own violent subconcious, honed by thousands of years of fighting and dying in ancestral memory. The edge itself is perfectly sharp - a pure expression of the concept of blade itself, capable of cutting flesh, bone, metal, and stone indiscriminately. With a trained mind, manifesting this blade takes but a thought, and releasing and reclaiming it back into you is just as easy. Especially skilled masters can fragment their violence into many pieces, shape it as they will, cut down a man in armor without damaging the armor itself, or hurl it like a crossbow bolt. The Red King's soulknife is a blood red shortsword, arcing with red energy that courses along his arm.
Special Skills:
Red King is archetypal - a brother to blood, an elegant, ever-inventive instrument of death. He knows nothing else in this state.
Relationship Status:
Unknown
Family:
None
Place Of Birth:
A paralell reality, now consumed utterly by a pandimensional evil called the "Darkstar"
History:
His reality was destroyed by something called the "Darkstar". Before the Darkstar took his world, he was a warrior that fought in defense of his planet against alien aggressors, a warrior by the same name as his current handle - Red King. When the Dark Star came to his world, with its corrupting light, he was the first to stand against it, and the first to fall to its terrible influence. His mind was too strong for him to warp like any other human being taken by the demon... but seeing madness in its purest form, so absolute that merely having its light touch your skin can turn you into a monster, and live... he was never the same, even after his body recovered. Seeing everyone he loved, everything he knew, everything he ever cared for be warped, turned into demons and ghouls by the Darkstar... his already sick mind snapped into psychosis.
Red King began killing. He no longer cared if they were changed yet or not. HE didn't care how much they screamed - the darkstar's designs on them were far worse than whatever he could put people through... so he never stopped.
It isn't clear how he got to this world, but he came here calm...
Techniques
[/color][/font][/center]
[/i][/u][/SIZE][/color][/font][/center]
Class 1 Abilities
Pyrokinesis - Psychic attacks involving the all-consuming fire of his mind. (Ki Manipulation)
Elocation - short-range teleportation.
Killer Instinct - Sense Power Level
Lurk - Hide Power Level
Unfocused Passion (Ki bubble)
Class II Abilities


Flame Whip Operating on similar priciples to his soulknife, he can create a whip of semisolid flame. Cracking this whip creates an explosion, and its length can be used as a cutting, cauterizing edge.

Flashover: Subtly focusing heat into nearby (near him or his soulknife) objects and air near ignition point, then breach it with them all, simultaneously.

Shun the Earth (transformation stage 1): He can telekinetically disregard gravity, inertia, and other forces that keep movement normally in check, letting him act with speed and agility unreachable by muscle actuation alone. While using it, he becomes shrouded in his energies, strokes of red lightning licking anything near him as energy desperately seeks a way to release itself from his grip. To see it, the technique is rightly named - he levitates several feet from the ground when he uses it, his hair upward-floating without gravity.
Because he is manipulating his body in perfect unision with his mind, he also gains no small bit of strength from this feat of psychic might as his mind and body act as one.

Sword in All Directions: Fragmenting his soulknife, he creates a torrent of shards he can telekinetically direct with thought alone. Often, he uses this to get a grasp of his surroundings, letting the soulknife flow everywhere, touch everything, often leaving shards here and there for further advantages.

Flashcut On similar principle to Flashover, Flashcut charges his edge with pyrokinetic energy. When he cuts something with this enhanced edge, all that energy charges his target in an area just large enough to reach ignition with the given energy - a single slashmark. Often, the area grows painfully white-hot a second or so before exploding.


Class III Abilities
Selective Solidity:
Ultimate power for a swordsman is the ability to determine what you want to cut... and to cut nothing else. He has attained this level of control of his violent instincts, and has become able to make his soulknife and all its manifestations solid... only to what he wishes. He can attack vital organs directly without breaking the flesh, kill a man behind ten feet of concrete, or ignore the presence of a ki barrier of some kind... as if such impediments were not there.